Spirit Wear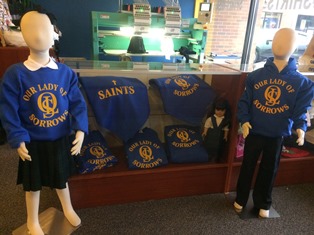 Educational Outfitters and Spirit Shop are suppliers of OLS spirit wear. Aside from school uniforms you can also purchase in-stock spirit wear items for all your needs, both team and personal.  Purchase your fleece jackets, logo wear and customized polo shirts, OLS blankets, and lots of other items. 
Our suppliers will even deliver your custom made spirit wear to school.  OLS received a portion back on each spirit wear item sold to support student life on campus.
By clicking this link you agree to abide by the terms and conditions of our
Spirit Wear and Merchandise Graphic Standards
All of the graphics options can be found in the Our Lady of Sorrows Graphic Style Guide.
For questions regarding spirit wear or design approval contact
Deidre Regalbuto
Director of Advancement