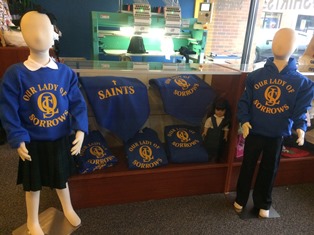 The "Saints Store" is officially open for business! Attached is a photo of the window at Educational Outfitters where our spirit wear is now being carried as an "in stock" item. You can also purchase the fleece jackets, logo wear and customized polo shirts, OLS blankets, and lots of other items. I've had so many coworkers, parents and parishioners ask for the ability to purchase quick, quality OLS spirit wear, and Education Outfitters (which is just minutes from here), has agreed to fill that need for us. Wanted to let everyone know in case these items are appealing for Christmas.
Here is their address:
Educational Outfitters
23317 Orchard Lake Road
Farmington, MI 48336
248-426-7273
All of the graphics options can be found in the Our Lady of Sorrows Graphic Style Guide.